Michigan's Rabbit Removal and Rabbit Control.

Do you need rabbit control, or a rabbit removal expert for your home, yard, lawn, garden, shopping center, restaurant, orchard, or farm property? Maybe you do not know how to get rid of rabbits or remove rabbits! Are you frustrated with repellents and gimmicks not working at your location. You can call the experts at VaMoose Varmint to help you with your problem. Ask a VaMoose Varmint professionals about one of their service plans that are available for removal of rabbits in your area.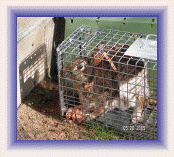 Rabbits are found throughout the United States. There are two species of rabbits that live in Michigan, the Eastern Cottontail and the Snowshoe Hares. They are commonly found around brushy fence rows, field edges, pine tree farms, orchards, brush piles, landscaped back yards where food and plenty of cover available.

Rabbits live a relatively short life span of 12 to 15 months. Rabbits have two to four litters per year depending on species and two to eight young per litter. First litters are born in Michigan around March to April. Sexual maturity typically happens around 2 to 3 months after birth.

The rabbit is a vegetarian. The Michigan rabbit's diet varies between seasons due to availability. About 50% of the rabbits intake is grasses during the summer. Rabbits have other food sources such as wild strawberry, clover and garden vegetables. In the winter, the rabbits feed on woody plant parts, such as twigs, bark and buds of oak, dogwood, sumac, maple and birch. As the Michigan winter snow accumulates, rabbits have access to the higher trunk and branches. Feeding activity peaks after dawn and after sunset. Rabbits cause a great deal of damage in their search for food. They are pests to gardeners and farmers in the summer. In the winter, they are a threat to the orchards, tree farms and manicured landscapes. In addition, humans may contract the bacterial disease tularemia from handling the carcass of an infected cottontail.



How to get rid of Rabbits?
Trapping and exclusion is an effective and successful method of getting rid of rabbits. Our professional trappers have experience to be able to place traps in strategic locations to resolve your problem fast.

There are many companies out there, but not all of them are licensed and insured professionals. Make sure that you hire a competent expert for your rabbit removal needs. At VaMoose Varmint, we will be courteous and friendly and take the time to answer your questions. Give VaMoose Varmint a call, and we will listen to your problem, and make an appointment to perform an inspection. VaMoose Varmint will remove rabbits in these Michigan Counties. Kalamazoo, Van Buren, St. Joseph, Calhoun, Berrien, Allegan, Branch, Barry, Cass, Ottawa, Eaton, Grand Traverse, Roscommon, Missaukee, Crawford, Kalkaska, Wexford, Otsego, and Antrim Counties.



Disease Concerns:

VaMoose Varmint!
Rabbit Control and Rabbit Removal
© Vamoose Varmint, LLC. All Rights Reserved. All images, text, graphics and materials are protected by U.S. and International copyright laws.
MICHIGAN CONTACT NUMBERS:
SOUTHWEST MICHIGAN: 877-782-6667
NORTHERN LOWER MICHIGAN: 989-348-2753
UPPER PENINSULA MICHIGAN: 989-390-5712