Goose Removal and Goose Control

Do you need goose control in Michigan, or a goose removal expert in Michigan for your yard, lake front, fields, home, or commercial property? Maybe you do not know how to get rid of geese or remove an aggressive goose nesting in an inappropriate area, like next to the entrance to a building. Are you frustrated with goose pop? You can call the experts at Vamoose Varmint to help you with your problem. Ask a Vamoose Varmint professional about one of their service plans that are available to remove large numbers of geese or just a pair of geese that are aggressive towards people in your Michigan area.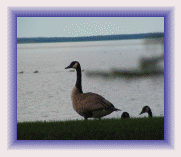 Canada Goose

The once nearly extinct giant Canada goose has experienced population explosions in areas throughout North America. This trend is due in part to the success of wildlife management programs and the adaptability of these magnificent birds. Giant Canada geese nest in every Michigan county but are most common (80% of population) in the southern third of the state. Geese will start to seek out nesting areas in mid March depending on weather, once a clutch of eggs are laid incubation period is around 28 days. Occasionally geese nest in inappropriate sites, such as in shrubbery near buildings or parking lots. These problem geese can demonstrate aggressive behavior towards people while defending their nesting territory.

Other types of goose problems

Goose droppings, where geese concentrate. Droppings can become aesthetically unpleasant. If problem goose numbers persist in shallow water areas, they can even elevate bacteria levels via fecal coliform. Coupled with other contaminants, this can lead to the temporary closure of beaches. Agricultural damage: geese damage crops through consumption or trampling sprouting crops. There are many options for nuisance goose control. We can evaluate your situation and provide you with several practical solutions for your goose problems.




How to get rid of geese

Goose round-ups, habitat modification, and even hunting programs is the most effective way to remove geese. Goose repellents and electronic device may be marginal and need to maintained by a professional that knows how to resolve the problem.

There are many companies out there, but not all of them are licensed and insured professionals. Make sure that you hire a competent expert for your animal service needs. At VaMoose Varmint, we will be courteous and friendly and take the time to answer your questions. Give VaMoose Varmint a call, and we will listen to your problem, and make an appointment to perform an inspection. VaMoose Varmint knows how to get rid of geese. VaMoose Varmint will remove geese in these Michigan Counties. Kalamazoo, Van Buren, St. Joseph, Calhoun, Berrien, Allegan, Branch, Barry, Cass, Ottawa, Eaton, Grand Traverse, Roscommon, Missaukee, Crawford, Kalkaska, Wexford, Otsego, and Antrim Counties.

Disease Concerns:

VaMoose Varmint!
Goose Control and Goose Removal
© Vamoose Varmint, LLC. All Rights Reserved. All images, text, graphics and materials are protected by U.S. and International copyright laws.
MICHIGAN CONTACT NUMBERS:
SOUTHWEST MICHIGAN: 877-782-6667
NORTHERN LOWER MICHIGAN: 989-348-2753
UPPER PENINSULA MICHIGAN: 989-390-5712