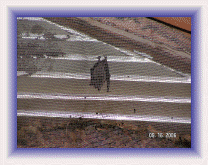 VaMoose Varmint!
Bat Removal
Do you need bat control in Michigan, or a bat removal expert in Michigan for your home, and attic? Maybe you do not know how to get rid of bats or perform bat control on your home or attic? Are you frustrated with bat control repellents or bat control poisons that don't work! You can call the experts at VaMoose Varmint to help you with your bat problem. Ask a VaMoose Varmint professional about one of their service plans that are available for bat removal and bat control in your Michigan area. Bat Removal and Bat Control is available in the Upper Peninsula
Bat Control
Bat Removal eviction is a natural way to execute bat removal from a structure without harm. During the phases of a bat removal process exclusion should be done to prevent the bats from finding their way back into the structure preventing further bat removal procedures. Bat removal measures must be done at the right time of the year or juvenile bats will become trapped in the structure and die, this could lead to a foul odor and lead to a possible dead bat removal. Residential or commercial bats will roost in any structure that suits their needs. So if you are tired of having bats flying through your home in the middle of the night, contact us for a bat removal inspection and we will provide you with a bat removal solution to your bat problem.
How To Get Rid Of Bats
Knowing some basic information will inform us on how to get rid of bats. There are 9 bat control species in the state of Michigan. The most common bat problem in Michigan is the Little Brown and the Big Brown Bat. Bats are nocturnal and will leave there roost at dusk to feed on a diet of various insects. Bats will hibernate over winter in buildings, attics, wall spaces, and basements. The Big Brown Bat has a tendency to move about when a temperature shift occurs. This some times brings this bat into human living quarters and basements in summer and winter.
Bat control with bat repellents:
Many chemical aromatics and irritants have been developed and tested thus far bat control. The efficiency has been very limited in the ussage in bat removal. In our opinion this is not how to get rid of bats.
Bat extermination:
There are no toxicants registered for bat pest control. This is not a legal method on how to get rid of bats or bat control.
News for Bat Removal in the Upper Peninsula of Michigan
2011
We will be heading back to the U.P. in the spring since demand is so high for bat control inspections. Call now for information and schedules and we will put you onto the list for bat control services in 2011. We try to put everyone on the same schedule to cut travel cost for out clients.
Bat Control traps:
Bat removal trapping can work but its time and labor intensive. Plus the trapper must come in contact with the bats when removing bat traps.
Disease Considerations:
Bats Rabies could have possible public health issues. Because bats inhabit human dwellings there is the potential for transmitting rabies. Prompted treatment after exposure can prevent the disease in humans. Rabies is nearly always fatal once symptoms occur. Random sampling of bats indicates an overall infection rate of less than 1%. Histoplasmosis is another possible health issues cause by bats. In an attic or around the house bat feces or guano will build up under roosts, these dropping are the size of rice, dark in color, and with shiny specks, the shiny specks are undigested insect parts. Guano will crumble easily. WARNING: DO NOT DISTURB THESE DROPPINGS. If the H. capsulatum particle becomes airborne there may be a chance of contracting Histoplasmosis, which is a respiratory disease. So if you are going to come in contact with guano wear proper safety equipment that will filter out particle up to 2 microns.
There are many companies out there, but not all of them are licensed and insured professionals. Make sure that you hire a competent expert for your bat removal service needs. At VaMoose Varmint, we will be courteous and friendly and take the time to answer your bat removal questions. Give VaMoose Varmint a call, and we will listen to your bat problem, and make an appointment to perform an inspection. VaMoose Varmint will remove bats in these Michigan Counties. Kalamazoo, Van Buren, St. Joseph, Calhoun, Berrien, Allegan, Branch, Barry, Cass, Ottawa, Eaton, Grand Traverse, Roscommon, Missaukee, Crawford, Kalkaska, Wexford, Otsego, and Antrim Counties.
Bat Control and Bat Removal
© Vamoose Varmint, LLC. All Rights Reserved. All images, text, graphics and materials are protected by U.S. and International copyright laws.
MICHIGAN CONTACT NUMBERS:
SOUTHWEST MICHIGAN: 877-782-6667
NORTHERN LOWER MICHIGAN: 989-348-2753
UPPER PENINSULA MICHIGAN: 989-390-5712